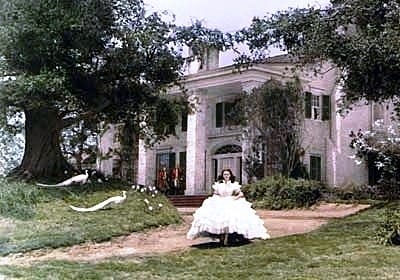 Old Tara
JMG notes a trend akin to the 1990s federal courts' binge on lavish new courthouses:
ATLANTA: Catholic Archbishop Apologizes For Building Himself A $2.2M Mansion
Archdiocese of Atlanta Archbishop Wilton Gregory
has apologized
after local Catholics expressed anger over his construction of a $2.2M mansion.
"I am disappointed that, while my advisors (sic) and I were able to justify this project fiscally, logistically and practically, I personally failed to project the cost in terms of my own integrity and pastoral credibility with the people of God of north and central Georgia," Gregory said in a column posted on the website of the archdiocesan newspaper, The Georgia Bulletin. "I failed to consider the impact on the families throughout the Archdiocese who, though struggling to pay their mortgages, utilities, tuition and other bills, faithfully respond year after year to my pleas to assist with funding our ministries and services," he added. The Catholic leader said he will discuss the situation with several diocesan councils, including a special meeting of its finance council. If church representatives want the bishop to sell the home, Gregory said he will do so and move elsewhere.
The mansion was built with money bequeathed "for general and religious charitable purposes" by Joseph Mitchell, the nephew of
Gone With The Wind
author Margaret Mitchell. Using funds from the $15M bequest, Archbishop Gregory demolished the nephew's home and built himself a 6400 square foot Tudor-style estate in its place.
RELATED:
Pope Francis last month accepted the
resignation
of Germany's "bling bishop," who had constructed an opulent estate for himself. Also last month, New Jersey Catholics
loudly protested
the construction of a 7500 square foot mansion for Newark Archbishop John Myers.
(Tipped by JMG reader Seth)
New Tara