UPDATE
: (4.30 pm EDT 3/16/17)
...Police say the encounter was preceded by the boy sending Shortey an online message stating he needed money for spring break.
"The defendant replied, 'I don't really have any legitimate things I need help with right now. Would you be interested in 'sexual' stuff?'" a sworn affidavit states. "JM responded 'Yes.' The conversation goes on with both discussing logistics and how and where JM and the defendant are going to meet. JM tells the defendant 'Hey keep updated cause I want you bad daddy.' The defendant responds, 'I'm gonna fuck you like a good little boy if you keep calling me daddy.' The message included a smiley face emoji after boy."
Police say they found a box of condoms on Shortey's backpack and a bottle of lotion in the teenager's backpack.
The boy allegedly said he had met Shortey on a Craigslist personal encounter listing and that they have known each other for one year.
The Oklahoma Institute for Child Advocacy gave Shortey a 100% rating in his 2014 re-election campaign.
Joe.My.God adds:
Last year Shortey introduced an anti-immigrant bill on the grounds that it would help stop child sex trafficking. Seriously. The bill helped earn him the endorsement of Arizona Sheriff Joe Arpaio. Shortey also posted the below photo with Donald Trump Jr. AFTER he was arrested at the Super 8 Motel.
UPDATE:
(2.30 pm EDT 3/16/17)
MOORE, Okla. —
An Oklahoma state senator offered money to a teenage boy for "sexual stuff" and was found with him in a hotel room that reeked of "raw marijuana," authorities said.
UPDATE:
MOORE, Okla. —
Moore police have recommended three prostitution-related charges against State Sen. Ralph Shortey.
The charges include: soliciting prostitution of a minor, prostitution within 1,000 feet of a church and transporting for the purpose of prostitution.
The Oklahoma Senate has voted 42-0 to punish and suspend Shortey for getting caught.
NewsOK.com:
MOORE — Police here are investigating why state Sen. Ralph Shortey was in a hotel room last Thursday with a teenage boy.
Police are reviewing text messages purportedly exchanged between Shortey and the teenager as part of the investigation, The Oklahoman has learned. Police became involved because of concerns raised by a relative of the boy.
Cleveland County District Attorney Greg Mashburn confirmed Tuesday he has received an initial briefing about the incident from a Moore police investigator. He said he is awaiting the investigator's final report before deciding whether any criminal charges are warranted.
Shortey, 35, was questioned Monday by Moore police, the prosecutor said.
Shortey, R-Oklahoma City, was first elected in 2010. He has been married to his high school sweetheart since 2002. He studied in college to do mission work in Uganda. He instead went into the oil and gas industry and then into politics.
Police on Tuesday would not release a report on the incident. Police did, however, release a brief statement when asked directly for an incident report involving Shortey.
"On March 9 ... officers of the Moore Police Department were contacted in reference to a welfare check at a local hotel," Lt. Kyle Dudley told The Oklahoman. "Responding officers found a juvenile male in a hotel room which was also occupied by an adult male. The circumstances surrounding this incident are currently under investigation and no additional information can be released at this time."
Shortey rented a room at the Super 8 in Moore for one night, checking in on March 8 and checking out March 9, a front-desk manager said. "It says two adults registered," the manager said.
Police took pictures of the room Thursday, the manager said.
During his time in the state Senate, Shortey has often taken controversial stances. Most recently, he angered voters when he proposed undoing changes to drug laws approved at the polls last November.
"People basically did not know exactly how much of the statutes were being changed," he said.
He also has taken on controversy as a political consultant. This year, he advised former state Rep. Dan Kirby, R-Tulsa, during a sexual harassment scandal at the Capitol. Kirby resigned after a special House investigative committee recommended his expulsion.
Contacted Tuesday afternoon, Shortey said he would have a response later.
What manner of legislator is Shortey?
In 2012 The Los Angeles Times reported:
Based on something he read online, an Oklahoma state senator has introduced a bill that would ban the use of aborted human fetuses in food.
Yes, you read that correctly.
No, he's never heard of any instances of this happening before, Sen. Ralph Shortey told the Associated Press.
But Shortey read that it might be happening, so he thought the bill would, at the very least, give any food companies toying with the idea an "ultimatum."
The legislation, known as SB 1418, is only a couple of paragraphs long. It states:
"No person or entity shall manufacture or knowingly sell food or any other product intended for human consumption which contains aborted human fetuses in the ingredients or which used aborted human fetuses in the research or development of any of the ingredients."
Shortey, a father of two who worked as an oil and gas production consultant, told the Associated Press that he found online evidence that some companies outside of Oklahoma use embryonic stem cells to develop artificial flavors.
Shortey did not respond to requests for comment Wednesday, but the Daily Oklahoman reported his motivation for the bill: "Shortey said he filed the bill after reading last fall that an anti-abortion group, Children of God for Life, had called on the public in March 2010 to boycott products of major food companies that partnered with a biotech company that produces artificial flavor enhancers, unless the company stopped using aborted fetal cells to test their products. The company has denied the allegation."
Federal food safety officials have never heard of such a thing. A U.S. Food and Drug Administration spokeswoman told the Associated Press that the agency has never gotten any reports of fetuses being used in food production.
Shortey, elected in 2010, has introduced a spate of controversial bills including denying Oklahoma citizenship to children of illegal immigrants born in the state. Another bill he wrote would have allowed police to confiscate the homes and cars of illegal immigrants. He also tried to advance a bill that would have required presidential candidates to provide proof of citizenship before being allowed on Oklahoma's primary ballot.
None of Shortey's controversial bills have become law.
Never mind that there's no separate state citizenship, either.
Another news outlet reported in 2014:
Shortey, 32, was the chief backer behind a new law that put greater regulations on bail enforcers. He brought bounty hunter Duane "Dog" Chapman, and his wife, Beth, to the state Capitol.
Shortey, when not there to introduce dumb-ass bills, had the third-highest absentee record in the Senate his first term.
He is a graduate of Heartland Baptist Bible College
, which condemns all forms of sex outside a man-woman marriage and some within it.
Another local observer offers this insight:
He's also gone all Captain Caveman on everyone and killed a turkey with a club:
Sen. Ralph Shortey said he refuses to get a concealed carry license because he objects to requiring a license to carry guns. He said he started carrying a gun with him in his truck after a turkey attacked him while he was on an oil and gas job.
"Wait until you get attacked by a turkey, you will know the fear that a turkey can evoke in a person," said Shortey, R-Oklahoma City. "So I beat it with a club. That's all I could do. I wish that I had a gun with me."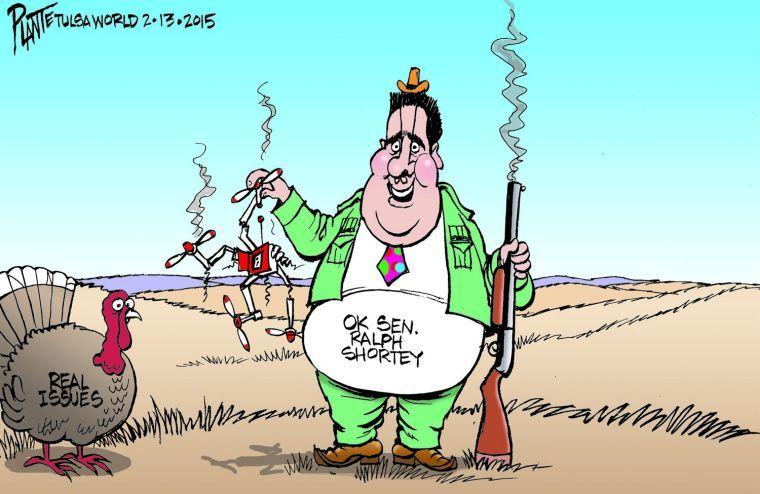 An ardent birther,
Shortey also cheered for President* Trump last year:
Sen. Ralph Shortey (R-Oklahoma City) chaired Trump's campaign and said his policies - not his personality - should be reason enough to vote for him, specifically his knowledge of trade policy and finance.
"The best part of him is he's not owned by anybody," Shortey said. "He doesn't owe anybody political favors. He's extremely independent. He genuinely does care about the future of this country."
The state senator equates Trump to former President Ronald Reagan, whom Shortey called a "rogue" who had been disliked by the establishment.
And, though Shortey is concerned about Republicans who are staunchly 'never Trump,' he is encouraged by record numbers of voters turning out in the primaries.
Plus, he hopes the others in his caucus realize what he said would be a damaging Clinton presidency.
"At the end of the day, they're going to realize that, as bad as Donald Trump's character attributes can be, Hillary Clinton's are 10,000 times worse," he said. "I believe Mr. Trump is the right guy at the right time. He's going to pull us out of this mess. I just know he is or he's going to die trying."
Curiously, Shortey has no easily-found record on the traditional GOP issue of gaybashing.
But there are clues to his thinking- and, perhaps, to why he is where he is now- in this 2012 Daily Show video
(the State Senate took away his laptop, today):
But State Sen. Ralph Shortey (R) isn't having it. He is anti-abortion and a supporter of "fetal personhood," but government control of women's bodies is sooo different from government control of men's bodies. I mean, this is men we are talking about. "The Johnson amendment is an egregious attack on personal liberty from the government," he huffed and puffed. "It would be a huge free choice issue. Basically the government is telling a man what he can and cannot do with his body."