There are signs of life at Deplorable Pride.
But just one, the one to rule them all. He, alone, can fix this.
We were at a loss the last week. DP's Official Website was hacked and turned into a gay dating site for conservatives.
There've been no interviews with Brian Talbert in the Googlesphere for the longest time.
The fundraising is still comatose:
But they've been busy, those Deplorables, with the stock-in-trade of tiny, ideologically incoherent organizations: they've been infighting.
DeplorablePride.org is issuing the following statement:
I am informing everyone of the changes at DeploralePride.org Derek VanCleve is no longer associated with DeplorablePride and has no authority to speak on our behalf. We have made this change to ensure the goal of DeplorablePride stays in focus and achievable. I have told you from the beginning that I am a man of my word. I promised to be truthful and transparent. I promised I will not let the Conservative LGBT voice die on my watch. Mr. VanCleve had different aspirations and Deplorablepride.org felt this to be a liability in obtaining our goal. Therefor his removal was effective as of July 7, 2017 at 5:08 pm. Our website will be up and running by the end of the weekend. You may reach us at our only official Facebook page. Thank you all again for your encouragement and support. I will not let you down!
Brian Talbert
Founder
DeplorablePride.org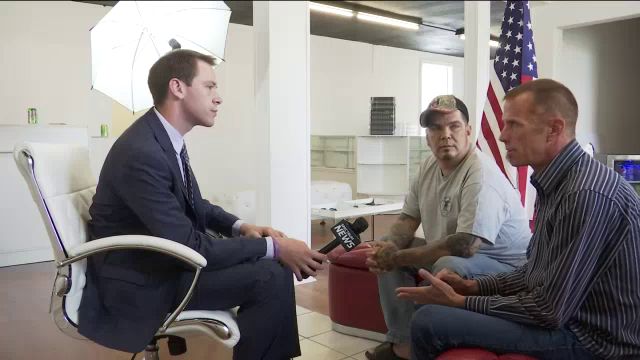 Derek Van Cleve (center) in the palmy days of early June.
The purge came just four days after Talbert issued this cryptic, "Will no one rid me of this meddlesome priest!?!" Facebook post:
When I started this fight, I had no idea how many bitter jealous Republican queers I would have to fight. I thought liberals would be the only ones I would have to deal with. You really see the grandstanding, jealousy, and greed come out when you start dealing in the political world. But I have said one thing from the beginning. I promise to be 100% truthful and transparent. A man is only as good as his word. I assure you that I am a man of my word. My goal is to fight for the Conservative LGBT voice. I don't care who I have to fight to achieve it.
Although Talbert hadn't yet airbrushed history- he still claimed to be a co-founder of his group, now he is The Founder- he made clear who was in charge half an hour earlier on July 3:
There has been a fake Facebook page made for DeplorablePride I am Brian Talbert. I am a co founder for this organization. I am also the only one you see or hear speaking on behalf of this organization.
Though unsigned, the post is clearly a Talbert original. The spelling and punctuation always give him up.
Then, on July 5, Talbert announced he had a dream way beyond a parade float:
Take this to the bank. I will be the next US House Representative for District 8 of North Carolina in 2020. I am going to make the peoples voice heard LOUD AND CLEAR! I am you, therefor I will make our voice HEARD!
So you can take that to the bank.
But you can't find out where Brian Talbert has banked $7730 raised from 211 donors over the last month:
Just to satisfy the LIBERALS who are running Gofundme I am making the FOURTH update in two days. I WILL BE WITHDRAWING THIS MONEY AND DEPOSITING THE FUNDS INTO A PERSONAL ACCOUNT. Does this now satisfy you, gofundme to release our donors money?
Being 100% truthful and transparent only extends, apparently, to saying one is 100% truthful and transparent.