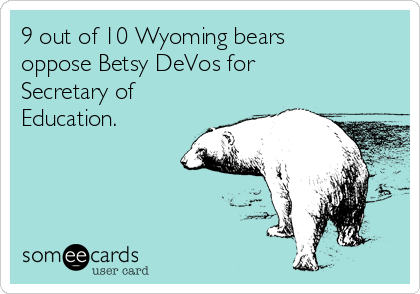 The Secretary of Education, Mrs DeVos, will not last long.
Given the obsession of the President* over polls and ratings, you can pretty much predict two things:
1. The order in which cabinet members will be fired.
2. That the order of chairs around the cabinet table will be changed from seniority of departments' creation by Congress to who got the most confirmation votes:
Mattis, Defense: 98
Haley, Miss World/UN: 96
Chao, Transportation: 93
Kelly, Homeland Security: 88
Ross, Commerce: 72
Pompeo, CIA: 66
McMahon, SBA: 65
Shulkin, VA: 64
Mnuchin, Treasury: 63
Price, HHS: 61
Tillerson, State: 55
Sessions, Justice: 52
Pruitt, EPA: 52
Mulvaney, OMB: 51
DeVos, Education: 50+1
Scratches:
Vincent Viola, Army, withdrew 2/4/17
Andrew Puzder, Labor: withdrew 2/15/17
Philip Bilden, Navy, withdrew 2/25/17
"Schools for God's kingdom"