Rick Perry,
Department of....Ooops...

My bad

...oh, ah, Energy
(-6%):
"The President's budget blueprint outlines a forward looking, mission focused budget for the Department of Energy. Our goal in the budget process is to properly align resources to the important missions of the Department. We must always do this while meeting the fiduciary duty we owe the American taxpayer. The blueprint focuses on positioning our nation to become more energy independent by utilizing America's greatest natural resource, our people. The Department's mission over the last 40 years will look very different for the next 40 years as we continue to innovate. At the same time, we will keep our commitments to further the clean-up legacy projects, utilize our national laboratories for cutting edge science and improve our national security.
I look forward to working with Congress over the coming weeks and months to ensure DOE is run efficiently and effectively, as we accomplish our mission driven goals."
Linda McMahon, US Small Business Administration (-11):
Crickets.
Betsy DeVos,
Department of Education for Advancing God's Kingdom
(-13%):
"She doesn't know how I'm gonna schlong her...budget."
"Today's Budget Blueprint keeps with President Trump's promise to focus the U.S. Department of Education on its mission to serve students. The budget places power in the hands of parents and families to choose schools that are best for their children by investing an additional $1.4 billion in school choice programs. It continues support for the nation's most vulnerable populations, such as students with disabilities, while streamlining and simplifying funding for college and continuing to help make college education more affordable.
"Taxpayers deserve to know their dollars are being spent efficiently and effectively. This budget is the first step in investing in education programs that work, and maintaining our Department's focus on supporting states and school districts in providing an equal opportunity for a quality education to all students. I look forward to continuing to engage with Congress as we roll out the President's priorities and put the needs of students first."
Ben "Dr Stabby" Carson,
Department of No Special Rights In Housing and Urban Development
(-13%)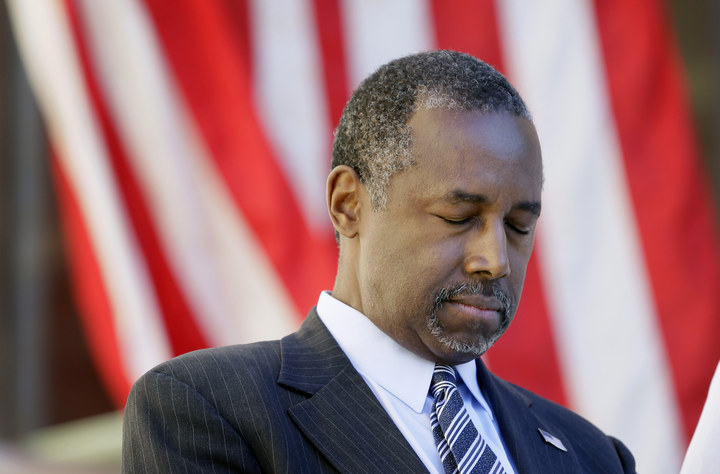 Ben was napping:
Today, the Administration proposed a Fiscal Year 2018 spending blueprint for discretionary programs in several agencies across the Federal Government, including the U.S. Department of Housing and Urban Development. The blueprint reflects the President's commitment to support HUD's critical functions that provide rental assistance to low-income and vulnerable households and to help work-eligible families achieve self-sufficiency. It also recognizes a greater role for State and local governments, and the private sector to address community and economic development needs. Moreover, the spending plan supports the longstanding homeownership mission of the Federal Housing Administration (FHA) to provide mortgage insurance to credit qualified households. A more detailed program-by-program budget proposal will be announced in May. Read more about HUD's budget blueprint.
Wilbur "More fire sale industries for me!" Ross, Department of Commerce (-15%):
"Somebody, reboot Secretary Ross."
No statement posted as of close of business 3/16/17.
Sonny Perdue,
Secretary of Chickens Coming Home to Roost and Ag Stuff
(-21%):
Nuthin', but this hasn't come down yet:
Academy for Global Citizenship students enjoy a healthy lunch.
Celebrating International School Meals Day 2017
Just like reading, writing and arithmetic, making healthy food choices is a learned behavior. And as with those vital academic skills, schools also play an important role in helping students build a healthy foundation for their lives through sound nutrition – not just here in the U.S. but in schools around the world.
International School Meals Day, held on March 9 this year, provides a wonderful opportunity to highlight that fact by raising awareness of nutritious school meals and their importance to the health of our kids. In fact, nearly every country provides some form of school meal for about 368 million children each school day worldwide, including more than 30 million children here in the U.S. through USDA's National School Lunch Program. And International School Meals Day brings the world a little closer, helping kids understand the importance of healthy nutrition to a healthy future.
Dr. Yibo Wood, Global Nutrition Coordinator, Food and Nutrition Service Posted in Food and Nutrition
Mar 08, 2017