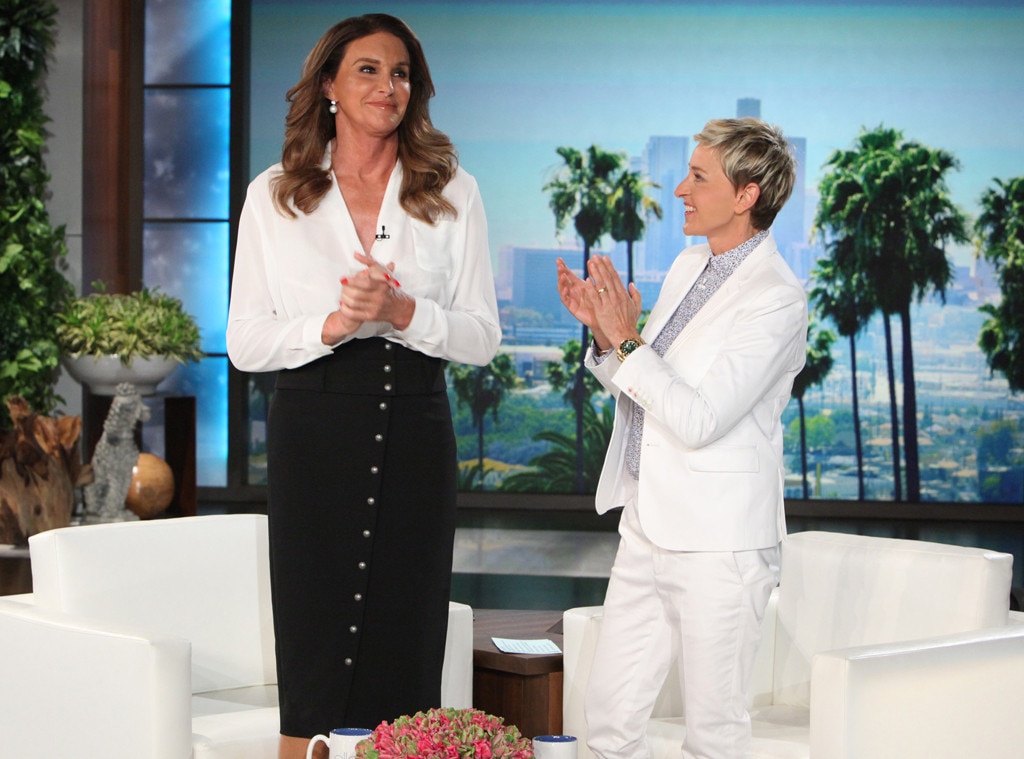 ...However, she went on to say that her feelings had softened: "I don't ever want to stand in front of anyone's happiness. If that word 'marriage' is really really that important to you, I can go with it.*
Caitlyn Jenner, 67, the self-crowned glamor granny of LGBT America, is slagging Ellen DeGeneres for "alienating" her from the adoring masses she expected to find after she went from celebrity househusband to housewife.
"I have to admit that I remember 15 years ago, 20 years ago, whenever it was that the whole gay marriage issue came up, I was not for it. I am a traditionalist," Jenner told DeGeneres in 2015.
Jenner needed no help whatever alienating herself from her previously-scorned, now-adopted tribe.
She made herself a punchline practically from her first cover story in the incredibly orchestrated PR rollout ("To be honest with you, I don't really talk to the media. This is very rare," Jenner reminds me early in our hour-long conversation in her fluffy white living room...In fact, she considers herself an expert in managing media relations, after several decades of interactions and her last marriage, to public relations maven Kris Jenner. "I know the media. I know how the media works, and I know how to play the game," she says).
By last fall, as I reported from the NC gubernatorial debates, Pat McCrory didn't need Ellen DeGeneres to alienate him:
"The most famous transgender American is Caitlyn Jenner," [moderator Chuck] Todd followed up. "What bathroom can she use in North Carolina?"
If she stays in a hotel or some other place, the governor said, she can use whatever she likes. But if she's in a UNC locker room after doing laps on the track, "she's going to use the men's showers on my watch."
Evangelicals denounced her from the get-go in 2015. Franklin Graham fumed,
[T]o recognize the very confused Caitlyn Jenner as a hero before the entire world? Give me a break.
Maggie Gallagher, the failed head of National Organization for Marriage mocked the news: "Bruce Jenner was lauded as a white woman."
For her part, Jenner- who admitted she hadn't thought much about issues like marriage, even after three of them- launched herself to explain the LGBT world to America with a TV show about herself:
"I did this, number 1 reason, is to be true to myself. You cannot do this unless you are true to yourself," says Jenner. "No matter any of this B.S. that is going on around me. But if I am true to myself and I wake up happy, then in doing that, can I make a difference? That's what I'm trying to do. Even though the show is called I Am Cait, it's not about me. It's about this community. It's about the people in this community. It's a platform."
In March 2016 she contradicted her future "blame Ellen" meme, telling one interviewer,
Perhaps it's because she has not been universally embraced by trans people.
"The biggest criticism has come from within the community," she tells me. "It's not the cis [nontransgender] girls out there or the cis guys. They love what we're doing here.
...Jayce asked, "What's your response to people who talk down to you for fighting for LGBT [rights]?"
"Nobody has talked down to me — to my face. I get nothing but love and support every place I go. But the Internet, ok? You will get stupid statements online, this and that, on and on, and the media is gonna run with something. I really can't deal with that, I just have to stay positive."
Does she surf the Internet? "I did for a while, I would read comments. And I would say to myself, 'That's so stupid!' The next one, 'Geez! They don't get it!'"
What it comes down to for many of Jenner's critics in social media is her privilege, which she acknowledges.
Not to mention Jenner's obliviousness:
"I like Ted Cruz," she declares. "I think he's very conservative and a great constitutionalist and a very articulate man. I haven't endorsed him or anything like that. But I also think, he's an evangelical Christian, and probably one of the worst ones when it comes to trans issues."
"I get it. The Democrats are better when it comes to these types of social issues. I understand that." So why support Republicans? "Number 1, if we don't have a country, we don't have trans issues. We need jobs. We need a vibrant economy. I want every trans person to have a job. With $19 trillion in debt and it keeps going up, we're spending money we don't have. Eventually, it's going to end. And I don't want to see that. Socialism did not build this country. Capitalism did. Free enterprise. The people built it. And they need to be given the opportunity to build it back up."
Jenner reveals she met Cruz prior to her transition, more than a year ago, "and he was very nice."
"Wouldn't it be great, let's say he goes on to be president," she tells me in relating a conversation on the tour bus. "And I have all my girls on a trans issues board to advise him on making decisions when it comes to trans issues. Isn't that a good idea?"
"You're going to be Ted Cruz's trans ambassador?" I respond.
"Yes, trans ambassador to the president of the United States, so we can say, 'Ted, love what you're doing but here's what's going on.'"
She wasn't joking.
Of her devotion to LGBT issues, Jenner is the first to praise herself- realistically, of course:
And to those who criticize her for not contributing her wealth to the plight of transgender people who are underemployed or earning less than their cisgender peers, or who think they or someone else not so famous would be a better focus of a TV series, Jenner says, she hears you.
"I understand that they would like to financially be better off or have their own television show and all that kind of stuff. I can't help everybody. But I'm trying. I'm trying."
Jenner notes that she's launched her newest philanthropic venture, reported by our sibling publication Out: She has teamed up with MAC Cosmetics for a campaign that supports the brand's transgender initiative. One hundred percent of the sales from Jenner's signature lip color, Finally Free, will benefit the MAC AIDS Fund as grants to "organizations and programs dedicated to improving transgender lives."
Then she announced she would evangelize the Republican National Convention, where the Convention adopted the most anti-LGBT platform in its anti-LGBT history.
Most recently, in March, Jenner waded into LGBT politics in North Carolina, tweeting of the HB2 repeal,
"The new law orders NC cities to discriminate against LGBT people until at least 2020 and unfair 'bathroom bans' remain."
Politifact made short work of Caitlyn the poli-sci expert:
Caitlyn Jenner gets North Carolina's new HB2 replacement law all wrong
It appears the big reveal in The Secrets of My Life, Jenner's new memoir, is not that Ellen DeGeneres ruined her plan to transfer to a new high school the week before Homecoming and demand to be elected Prom Queen, but that she really has no idea about much of anything except how to be, and stay, rich and famous.
*In my family the variant is, "Well, you can call it whatever you want, just don't ask me to call it marriage."