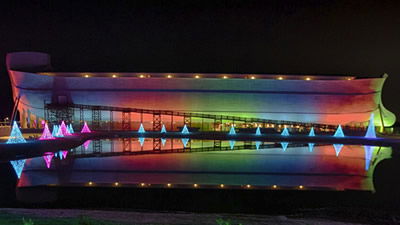 Kentucky's Australian Old Testament scam artist Ken Ham looted the treasury of the county in which he built his $102 million Noah's Ark Park with demands for tax rebates and exemptions.
He promised the locals jobs and new hotels and restaurants, anointed by God to feed and house the faithful lined up to pay $48 per adult- and a $10 parking fee (kids only $23!) who haven't materialized at all.
Meantime, Ham lights up the non-floating Ark every night with the colors of the rainbow to claim them back from the mean gays.
But them as have showed up to see the big caged plastic dinosaurs, have stretched the impoverished county's fire and law enforcement to the breaking point. So the county passed a 50-cent tax for public service support.
Ham didn't cotton to that at all. He sought an exemption, claiming his for-profit God company is a charity. The county said no.
So he sold his park to a non-profit he controls for $10 to set himself up for a God-based exemption from all taxes everywhere.
Enter the Commonwealth of Kentucky:
Kentucky has suspended tax breaks to the Ark Encounter, saying it breached a deal that provides the religious-themed attraction with $18 million in state tax incentives.
The Northern Kentucky theme park, dubbed the "Ark Park" because it features a 510-foot-long model of Noah's Ark, was notified by state officials on Tuesday that the owners have violated an agreement with Kentucky by transferring the property from a for-profit company to a nonprofit company.
The Freedom From Religion Foundation, a national group that promotes separation of church and state, released a July 18 letter from the state Tourism, Arts and Heritage Cabinet notifying the Ark Encounter that it is in violation of its agreement for the tax incentives. The agreement provides Ark Encounter with up to $18 million in subsidies through annual tax rebates, the foundation said.
In other stupid Kentucky evangelical legal arguments, Rowan County Clerk Kim Davis' campaign to keep the gays living in sin by denying them wedding licenses has gotten the Commonwealth socked with a $221,000 legal bill for the couples whose lawyers beat Davis like a drum in 2015-16.
Among her arguments was that plaintiffs didn't really get a permanent injunction against defying the law because no marriage is permanent. People get divorced, and die, Mat Staver, Davis' free religious zealot lawyer, argued.
That dog won't hunt, Judge David Bunning wrote in his decision awarding the couples who sued Davis $224,000 in legal fees.
Staver called his idiocy a win because Davis doesn't have to pay the money personally, nor will the county in which she will be up for re-election in 2018.
In other news,
no Kentucky Republican leaders have gotten arrested for sex crimes in the last few days.