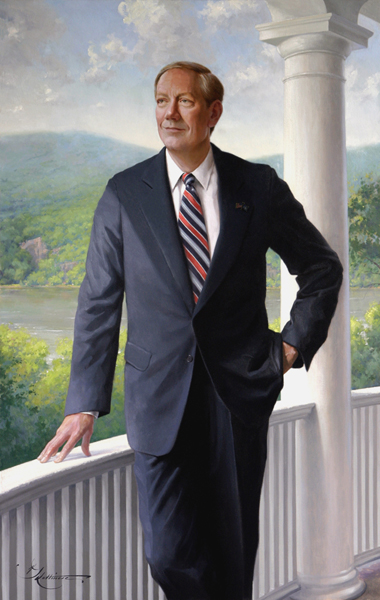 Imagine being trapped on a large boat, on a large lake, for three hours, with five of the Republican presidential candidates polling in the one percent range. Imagine further that you paid good money for the opportunity.
MANY CAN­DID­ATES WITH no chance of vic­tory run for pres­id­ent be­cause of con­vic­tion. Like, say, Ron Paul in 2012 or Bernie Sanders today, they have a set of is­sues they pas­sion­ately want to ad­vance.



This does not, as far as I can tell, ap­ply to George Pa­taki. As Jo­nah Gold­berg put it in a column last month, Pa­taki seems to be "pre­tend­ing to have core con­vic­tions just so he can run." Even the Pa­taki web­site motto—"People over polit­ics"—sug­gests a de­sire to avoid ser­i­ous thought. And such an im­pres­sion is noth­ing new. As Pa­taki's third term as gov­ernor of New York was wind­ing down in 2005 and 2006,

The New York Sun

wrote that "one looks in vain to dis­cern any prin­ciple or idea that Mr. Pa­taki stands for con­sist­ently." Colum­nist Deroy Mur­doch wrote in

Na­tion­al Re­view

that Pa­taki was "a politi­cian of breath­tak­ing me­diocrity" whose "lack of com­pet­ence, cha­risma, and char­ac­ter com­poses a sick­en­ing tri­fecta." Kind­est was

The New York Times

, which com­plained that un­der Pa­taki "re­form was a talk­ing point, not a do­ing point," while non­ethe­less con­ced­ing that, over­all, "New York­ers are well aware that it is pos­sible to do worse."



...COUNT­LESS PSY­CHO­LO­GISTS

HAVE

stud­ied the de­lu­sions of those who en­gage in long-shot gambling. One un­sur­pris­ing find­ing is that few of us in­tu­it­ively un­der­stand stat­ist­ics. As Lloyd Christ­mas in

Dumb and Dumber

says to a love in­terest when she ex­plains that his chances with her are one in a mil­lion, "So you're telling me there's a chance." Oth­er factors, as sum­mar­ized in a 1998 art­icle in the

Journ­al of Gambling Stud­ies

, in­clude "cog­nit­ive en­trap­ment, a be­lief in hot and cold num­bers, un­real­ist­ic op­tim­ism, a be­lief in per­son­al luck, su­per­sti­tious think­ing, the il­lu­sion of con­trol," and "the er­ro­neous per­cep­tion of near misses."



Per­haps Pa­taki's pre­vi­ous gambles have giv­en him an un­real­ist­ic sense of the odds in­volved in this new­est ven­ture. He un­seated an in­cum­bent when he ran for may­or of Peek­skill in 1981. He knocked in­cum­bents out of the state As­sembly in 1984 and the state Sen­ate in 1992. And every­one agrees that his vic­tory over Cuomo was a re­mark­able up­set, one pulled off by someone who'd garnered few­er than 90 men­tions in

The New York Times

in all the years pri­or to 1994.



In­deed, it's easy to see why, in Pa­taki's eyes, 2016 might not look like such an im­possible gamble. The very act of an­noun­cing a U.S. pres­id­en­tial can­did­acy, of com­mand­ing a po­di­um and draw­ing a CNN crew and

New York Times

re­port­ers, is something done by at most sev­er­al hun­dred Amer­ic­ans over the past few dec­ades. Just by get­ting that far, you are already one in a mil­lion. How much more of a leap is it really to be­come one in 300 mil­lion?



...Ash­ley Wein­berg, a psy­cho­lo­gist at the Uni­versity of Salford who has in­ter­viewed dozens of former mem­bers of the Brit­ish Par­lia­ment about why they liked their jobs, says that the phrase "be­ing at the cen­ter of things" kept com­ing up. That yearn­ing doesn't re­quire con­vic­tions. "You're sens­ing things hap­pen­ing around you," Wein­berg says. "Which is quite dif­fer­ent from wheth­er you want

spe­cif­ic

things to hap­pen around you."