As Ted Cruz's poll numbers sink under the weight of an ever-increasing stack of accusations that he is a serial, habitual liar, one cannot help but wonder if that shared affinity is what makes radio/TV lunatic Glenn Beck such a fanboy of Felito's.
Consider, for example, the current fluffle about Glenn Beck's claims to own a copy of Don Quixote purchased by George Washington the day he signed the Constitution September 17, 1787.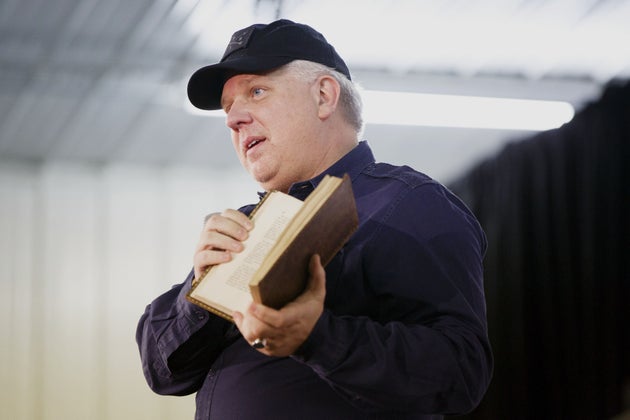 Beck has been toting the volume around to Cruz rallies, offering it up as an object of religious veneration. Here's what I have been able to piece together:
Talking Points Memo picks up the story today:
Conservative media mogul Glenn Beck acknowledged Wednesday that a copy of "Don Quixote" he owns was not purchased by George Washington on the day he signed the Constitution, as Beck previously claimed.
But he insisted in a statement to The Huffington Post that "the copy in my possession is from the private library of George Washington."
"I have incorrectly stated that my copy is the copy that Washington purchased the day he signed the Constitution," Beck said. "That version is one of the copies owned and housed in Mount Vernon. I take full responsibility for connecting my book (which is dated 1796) to the book Washington purchased that fateful day of September 17th, 1787. But make no mistake the copy in my possession is from the private library of George Washington."
Beck has been carrying the copy of "Don Quixote" around while stumping for Sen. Ted Cruz (R-TX). He even let a member of the audience hold the book at one campaign stop, according to The Huffington Post.
"He wrote two lines [in his diary] on the day of the signing of the Constitution," Beck said of Washington at an event on Jan. 30 in Ames, Iowa. "First line: 'Signed the Constitution today.' Second line: 'I pick up my copy of Don Quixote.' This is his copy of Don Quixote that he picked up that day."
But the museum at Mount Vernon, Washington's Virginia home, denied that Beck owns the copy the former President purchased on Sept. 17, 1787.
A museum representative told The Huffington Post that the copy Washington purchased the day he signed the Constitution was stored in the rare books vault at the Fred W. Smith National Library for the Study of George Washington. The museum even tweeted a photo of it:
— Mount Vernon (@MountVernon) February 23, 2016
In a statement to HuffPost, Beck acknowledged the book he's displayed at rallies is not the copy of Don Quixote that Washington purchased on that day. However, Beck said he possesses another copy of the book, dated 1796, from Washington's library.
"The lesson that I take from Washington's diary where he says 'Signed the constitution. Bought Don Quixote' is that we are never done in our service to God and Country," Beck said.
Experts at Mount Vernon noted that the ownership of the 1796 volume is complicated, and that it's uncertain whether that later edition, owned by Beck, was in Washington's library or was purchased by Washington as a gift for his friend Colonel Tobias Lear. The 1796 copy of Don Quixote was later passed down to Lear's son, Benjamin, who identified it in records as having been received from Washington.
A Mount Vernon spokeswoman said it would need to see Beck's copy in person to authenticate it.
The copy of Don Quixote isn't the only artifact related to Washington that Beck has shown off at Cruz events in recent weeks. He has also brought out a compass that belonged to Washington, arguing that America needs someone like Cruz who displays the exactness of a surveyor.
The Mount Vernon website explains the purchase and provenance of the book:
On September 17, 1787—the very day that the Constitution was adopted—Washington bid farewell to his fellow delegates. On the same day a far less momentous event occurred, though one that gives insight into Washington's interests at the time; he paid a bookseller 22 shillings, six pence in Pennsylvania currency for The History and Adventures of the Renowned Don Quixote, Translated from the Spanish Miguel de Servantes By T. Smollett, M.D. Washington's edition of Tobias Smollett's English translation was published in London in 1786.
Washington took his copy of Don Quixote with him when he left Philadelphia the following day and the volumes soon found a place in his Mount Vernon library. Although Washington's nine hundred volume library included a number of works of literature, this seventeenth-century Spanish allegory does seem a somewhat unusual choice for the pragmatic farmer, soldier, and statesman. An explanation for the apparently uncharacteristic purchase can be found within Washington's correspondence.
Among the letters that Washington received in 1787 are several from Don Diego de Gardoqui, Spain's ambassador to the newly formed American republic. Gardoqui's principal mission was to secure favorable terms in a treaty between the United States and Spain to govern trade along the Mississippi River. Letters written to his superiors in Madrid reveal a shrewd diplomat who understood the importance of winning over George Washington, the man who was to become President, should the bold experiment of the Constitutional Convention succeed.
In 1785 Gardoqui assisted in delivering a Spanish donkey from King Charles, "Royal Gift," that Washington wanted for his plan to breed mules at Mount Vernon. His next gift to Washington was to be a Spanish edition of Don Quixote. The two men dined together on September 11, 17871, where Don Diego steered the conversation around to Cervantes. On November 9, the diplomat wrote to Washington, "requesting you would accept, and give a place in your library, to the best Spanish edition of Don Quixote which I recollect to have heard you say, at Dr. Franklin's you had never seen."2 The book was published in Madrid in 1780.
By the time he received Don Diego's gift, Washington already owned his English translation. While Gardoqui's generosity did not have the desired effect—Washington refused to be drawn into the treaty negotiations—he did make Washington aware of Cervantes' great work, leading to Washington's purchase of the English edition. The book remained in Washington's library until his last years. In the inventory of Washington's estate taken after his death in 1799, the listing of books in his study runs eighteen pages. Among the books found "On the Table" is the English "Donquixote," valued at three dollars.
Mount Vernon currently owns both of Washington's copies of Don Quixote. The four small English language volumes are in original binding and are illustrated with charming copperplate engravings throughout. George Washington's signature appears on the title page of each volume and an impression of his bookplate, engraved in London in 1771, has been affixed to each front pastedown endpaper.
Notes:
1. The Diaries of George Washington, vol. 5, 1 July 1786?–?31 December 1789, ed. Donald Jackson and Dorothy Twohig. Charlottesville: University Press of Virginia, 1979, pp. 183–189.
2. Diego de Gardoqui to George Washington, 9 November 1787. The Papers of George Washington, Confederation Series, vol. 5, 1 February 1787?–?31 December 1787, ed. W. W. Abbot. Charlottesville: University Press of Virginia, 1997, pp. 419–420.
3."George Washington to Don Diego de Gardoqui, 28 November 1787," The Papers of George Washington, Digital Edition. Edward Legel, Ed.
Finally, here is George Washington's diary entry for the day in question:
Monday 17th. Met in Convention when the Constitution received the Unanimous assent of 11 States and Colo. Hamilton's from New York (the only delegate from thence in Convention) and was subscribed to by every Member present except Govr. Randolph and Colo. Mason from Virginia & Mr. Gerry from Massachusetts. The business being thus closed, the Members adjourned to the City Tavern, dined together and took a cordial leave of each other—after which I returned to my lodgings—did some business with, and received the papers from the secretary of the Convention, and retired to meditate on the momentous wk. which had been executed, after not less than five, for a large part of the time Six, and sometimes 7 hours sitting every day, sundays & the ten days adjournment to give a Comee. opportunity & time to arrange the business for more than four Months.