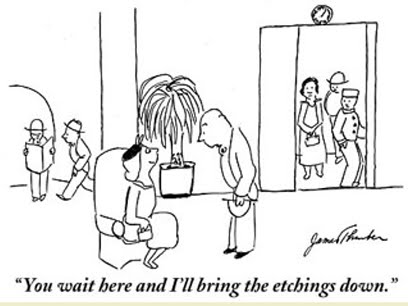 As art moves from avid collectors to professional money managers, people are trying to make it work more like a conventional investment. Some family offices have teamed up with dealers and art-world insiders to invest in art through fundlike structures. Evan Beard, a national art-service executive for U.S. Trust, a wealth-management unit of Bank of America Corp., says he knows of more than a dozen funds formed by families with at least $100 million worth of art in each. "An art fund gives you a scale of negotiating power with auction houses," he says. It can also have tax advantages and spread out some of the costs of buying art.
A Kansas City-based company, the Collectors Fund, acquires postwar and contemporary art on behalf of investors who get to own a part of each work held within a fund. It charges an annual management fee of 1.5 percent to 2 percent of assets and 20 percent of profits. Steven Halliwell, the company's managing director, has been approaching family offices but not yet gained much traction with them. They want the kind of historical data about art they're used to seeing for other investments. "That data is beginning to develop through various indices, but it's still in very early stages," he says.
Roszell Mack III, president of Mack & Co., which advises a dozen family offices on alternative assets, says investors should be unsentimental. "Buy it. Put it away. Don't fall in love with it," he says.