Over a headline in which the President spoke in Warsaw of the existential threat to white Christian values, Breitbart News- formerly run by his Svengali, Steve Bannon- has given its masthead up for a second day to promote a book by its disgraced former "tech editor", Milo Yiannopoulos.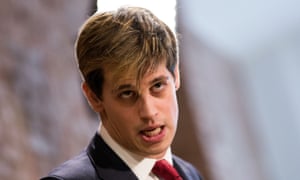 Yiannolpoulos, a 32-year-old British college dropout and tech startup failure whose real surname is Hanrahan, is a provocateur who seeks to revive racial and other slurs as a form of free speech. He describes himself as "'the most fabulous supervillain on the internet" and has declared he wishes he wasn't gay but can't give it up.
He can call Leslie Jones a "black dude" who is "barely literate". He can call Melissa McCarthy, Kristen Wiig and Kate McKinnon "fat" and "ugly". He can call transgender people "mentally ill" and "retarded," and mock a transgender student during a speech at her own school...During Yiannopoulos's tenure at Breitbart – where he's told gay people to "get back in the closet" and women to "log off" the internet – he has amassed more than 1 million followers on Facebook.
He is known for so inflaming campuses before his "Dangerous Faggot" speaking events they have to be canceled, letting him then crow in feigned outrage, and his harassment of others on Twitter was deemed so outrageous he was banned for life.
In February, Milo resigned from Breitbart after mainstream media picked up on video of an interview long known to the LGBT community in which he thanked his childhood Catholic priests for introducing him to oral sex, and approving of sex between men and boys as early as age 13.
He later denied that is what he believes (pedophilia only applies under 13, he says) but resigned anyway. In May he claimed he was suing Simon & Schuster but nothing has come of it.
The ethically louche Conservative Political Action Committee, which crammed its own loathing of the gays down its own throat to book Milo as a keynote speaker when all he offered was his anti-liberal schtick, canceled his speech, and publisher Simon & Schuster canceled his book.
The New York Times reported,
"We initially extended the invitation knowing that the free speech issue on college campuses is a battlefield where we need brave, conservative standard-bearers," Matt Schlapp, the chairman of the American Conservative Union, said in a written statement.
Regarding Mr. Yiannopoulos's comments, Mr. Schlapp called them "disturbing" and said Mr. Yiannopoulos's explanation of them was insufficient.
Milo has since assembled a reported $10 million in #AltRight funds to set up his own media company and self-publish his book. In June it was briefly #1 in pre-orders on Amazon, which lists it under "Humor."
The allegations were substantiated with screenshots of a Slack group titled "Project Milo" that hosted 43 members and included various channels like "#blackc---," "#idolworship" and "#schedule." One image reveals a post that appears to be sent from Yiannopoulos to the group warning them not to use the "n-word."
"Please THINK about how this could appear if leaked to the wrong person. I won't issue further warnings," he wrote.
Yiannopoulos weakly defended his mass of interns, saying "I know they don't mean it in a racist way."
In a video clip obtained by BuzzFeed that shows postings in the group, Yiannopoulos allegedly asked his interns to write a speech that included "(1) feminism attention seeking for ugly people (2) wage gap (3) campus rape culture… a load of mean jokes."
Here is w
hat Breitbart thought of the man they used to promote as their "gay thot":
Ahead of Yiannopoulos's resignation, Breitbart Editor-in-Chief Alex Marlow criticized the senior editor, calling his comments "not defensible."
Breitbart employees reportedly threatened an exodus of "at least a half-dozen" employees if the site didn't fire Yiannopoulos.
Four months seems a lifetime ago in #MAGA Time.