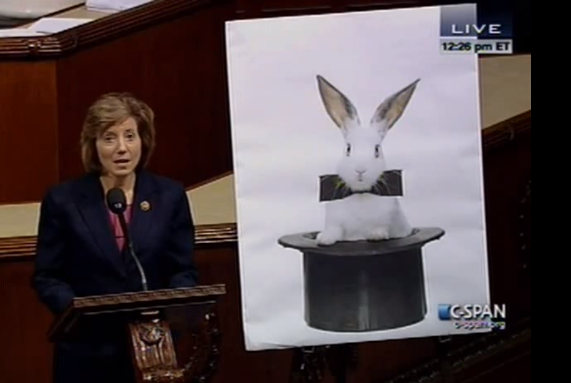 An attempt to defund transgender procedures for serving military members was narrowly defeated in the US House yesterday.
Fifteen of sixteen of the Carolinas' Republican House members were among the 90% of their caucus to vote for the Hartzler amendment, which was defeated 214-205.
SC Congressman Mark Sanford was absent.
Rep. Vicky Jo Hartzler originally called for discharging all transgender service members, but yielded to suggestions the military might know more about it than she.
She has since said she would reintroduce her amendment if the Pentagon doesn't do her bidding.
Hartzler is a former high school home economics teacher who never served in the military, but has served as chair of the Missouri Women's Council while vociferously opposing state adoption of the Equal Rights Amendment, and as a spokesmoralist for the Coalition to protect Marriage, an anti-LGBT group.
NBC reports
:
The transgender measure...would have forbid money from being spent by the military's health-care system for medical treatment related to gender transition. Hartzler portrayed her proposal as a good government plan aimed at assuring military dollars are spent only on critical national defense needs.
Hartzler estimated transition surgeries, which she said most private insurance plans don't even cover, could cost the military $1.3 billion over the next 10 years. Troops who have the surgery require months of recovery, she added, which means they're unavailable to do their jobs.
"It makes no sense to create soldiers who are unable to fight and win our nation's wars," Hartzler said.
Not knowing, or trying to obtain, accurate data has been no barrier to the possible 2018 US Senate candidate.
Time reports
,
In pushing the amendment, Hartzler also argued that the surgery is "very costly." Estimates of the potential cost for transition-related care among military members vary wildly, ranging from about $2.4 million per year to several times that amount. That is partly because estimates of transgender troops in the military remain inexact. The Williams Institute estimates that there are roughly 8,800 thousand active duty military members who are transgender. Other research suggests the number could be as low as 1,500. In addition, not all transgender people need or want surgical treatment.
NBC's story continues:
Republican Rep. Duncan Hunter of California said people should decide what sex they are before signing up.
"Figure out whether you're man or a woman before you join," Hunter said. "U.S. taxpayers shouldn't have to foot the bill."
The close vote nonetheless underscored the zeal with which a number of Republicans are seizing opportunities to reverse what they cast as President Barack Obama's social engineering of the armed forces. Transgender service members have been able to serve openly in the military since last year, when former Defense Secretary Ash Carter ended the ban.
Since Oct. 1, transgender troops have been able to receive medical care and start formally changing their gender identifications in the Pentagon's personnel system. A Rand Corp. study found that there are between 2,500 and 7,000 transgender service members in the active-duty military, and another 1,500 to 4,000 in the reserves.
Defense Secretary Jim Mattis decided late last month to give the military chiefs another six months to conduct a review to determine if letting transgender people enlist in the armed services will affect the "readiness or lethality" of the force. However, the delay doesn't affect transgender troops who already are serving openly in the military.
This episode is just one more example of the incoherence of groups like Albermarle, NC's Deplorable Pride. The idea that the President and his party are anything but slaves to their 2016 platform and the President's raveningly antigay base is simply delusional.